NOTE: This website is new, and under construction. While there will always be room for periodic updates and maintenance, we're currently building the foundations and filling in the basic furniture, so to speak. Please have patience as the content will, for now, be nowhere near a state of completeness.
Best regards,
The Webhamster
Cries of the Soul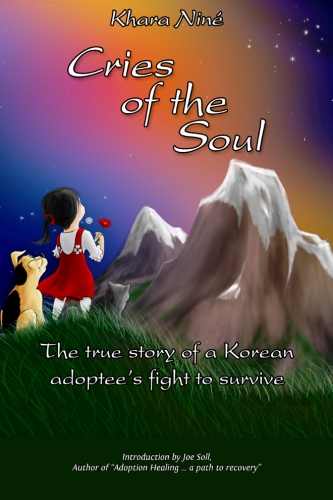 Cries of the Soul: the True Story of a Korean Adoptee's Fight to Survive
Paperback at www.amazon.com
by Khara Niné
In 1970, shortly after the death of her mother, and without the consent or even the knowledge of her father, a barely one year old girl is put up for foreign adoption in South Korea. She ends up in an adoptive family where she spends her childhood suffering neglect and abuse at the hands of her adoptive parents. "Cries of the Soul" tells a story rather different from the more common, picture-perfect fairy tales of the adoption industry. With her original childhood and natural family stolen from her, Khara Niné describes the harsh reality of coping and trying to fit into a family where she doesn't belong, of grieving the loss of parents she can not even remember, and the emotional scars which she is still struggling to get to grips with more than forty years later.
"Beginning with the trauma of lying in the arms of her beloved Umma when she died, Khara takes the reader through her life's journey with a colorful, flowing narrative, joyous in parts, yet mostly a soul wrenching description of one woman's struggle to survive."
— Joe Soll, author of "Adoption Healing... a path to recovery"
Cries of the Soul, Tender Heart Strong Spirit — Kathleen Moran on Amazon.com

Jung Kyung Sook's life experience as an International Transracial Adoptee in her book, Cries of the Soul, describes in detail the depths of loss and the heights of her inner strength. This book will enlighten many who seek the truth about the inner life of Adoptees. I would suggest this gem of a book to anyone involved with Adoption, and hope this becomes a classic staple on many a bookshelf. Thank you JKS!
Real, raw, and heartfelt — Nanci Dru on Amazon.com

Cries of the Soul is an autobiography of the life of a Korean adoptee who grew up in Norway that is told in beautiful and haunting vignettes that are seamlessly woven together. Although the book may be of particular interest to adoptees, it is such a compelling book and written in such a lovely way that I recommend it for any reader (though not young children; although Khara Nine, nee Jung Kyung Sook, writes with the innocent voice of a child, it is a book for those mature enough to understand the painful and dark side of adoption). What I loved most about this book is the author's voice. It is the voice of a girl who appreciates the innocence of climbing trees and her beloved stuffed animal. Her detail is spot on -- I have never been to Norway but felt I was there alongside her with the beaches and fjords. Her descriptions of happy occasions are punctuated with the abuse she suffered at the hands of her adoptive parents, and these moments when the reader is suddenly swept from an idyllic situation to the reality of her abuse are jarring and suspenseful. Her writing is reminiscent of fairy tales, but real and without the happy ending. Interwoven with the stories of her childhood are her adult musings on finding her sisters, learning of her father's death, and her own family in Norway. The book has all the lessons of a great psychology or self-help book but is told as an incredible life story. I highly recommend this thoughtful and thought-provoking work.
A Must Read for Adoptive Parents — Mary A. Coyle on Amazon.com

This story was a tribute to Kyung Sook's strength to live and prosper. I admire her determination to see beauty in the world around her, and her perseverance to keep going like when Kyung Sook describes the Christmas that she decorated the tree when no other family member would. The determination to choose to live when it may have been easier to take her own life. The way that Kyung Sook went on to create a family of her own in which her daughters grew up safe and happy. It is stories like hers that give parents like the me the education that we need to be better parents for our children whom we have adopted. We do listen. I know that there are not many of us, but we are out here and we do listen and learn. My own kids are growing into fine young adults. They have benefited from going to Culture Camps, cooking Korean food, and travelling to Korea (more than once) because we listened. Thank you for sharing your story.
A majestic work — Joseph M. Soll on Amazon.com

"Cries of the Soul is the most complete and compelling book I have ever read about the horrors of the separation of a child from her origins. Anna Freud's statement that the horrors of war pale beside the loss of a mother is brought to reality by the gut wrenching writing of Jung Kyung Sook.

Beginning with the trauma of lying in the arms of her beloved Umma when she died, Kyung Sook takes the reader through her life's journey with a colorful, flowing narrative, joyous in parts, yet mostly a soul wrenching description of one woman's struggle to survive.

Those who face their demons are some of the strongest people on the face of the earth. Kyung Sook is one such person. Her story had to be told and she told it well. This book is a Must Read!" – Joe Soll, psychotherapist and author of Adoption Healing… a path to recovery.
cries of the soul — Jane Hunt on Amazon.ca

This book is a wonderful read. The author covers so much about what an adoptee from korea may feel. Her story of her family left to search for her is heartbreaking and her descriptions of fitting into a totally new culture where she is labeled an outsider is very sad. She also manages to cover some of the corrupt side of international adoptions and is very courageous to tell her truth. She covers the spiritual side and the emotional side very well. It is a great read and an eye opener about how the adoption industry effects those in it's grasp.
~ ¤ ~